Il prossimo anno cadrà il ventennale di un'impresa mitica… Il Davide motociclistico che sfida e batte i Golia giapponesi. La visione folle di Claudio Castiglioni, il team di persone eccezionali, 2 grandi piloti come Ciro de Petri e Edi Orioli riuscirono a scrivere una pagina indelebile nella storia motociclistica.
Questo è il nostro omaggio a quegli uomini e a quella moto, la mitica Elefant della Cagiva.
Il telaio è derivato da un moderno traliccio ducati e il motore è il classico pompone ad aria.
Le quote ciclistiche ricalcano quelle della moto originale perchè questa non è una cruiser stile GS ma una vera e propria nave del deserto.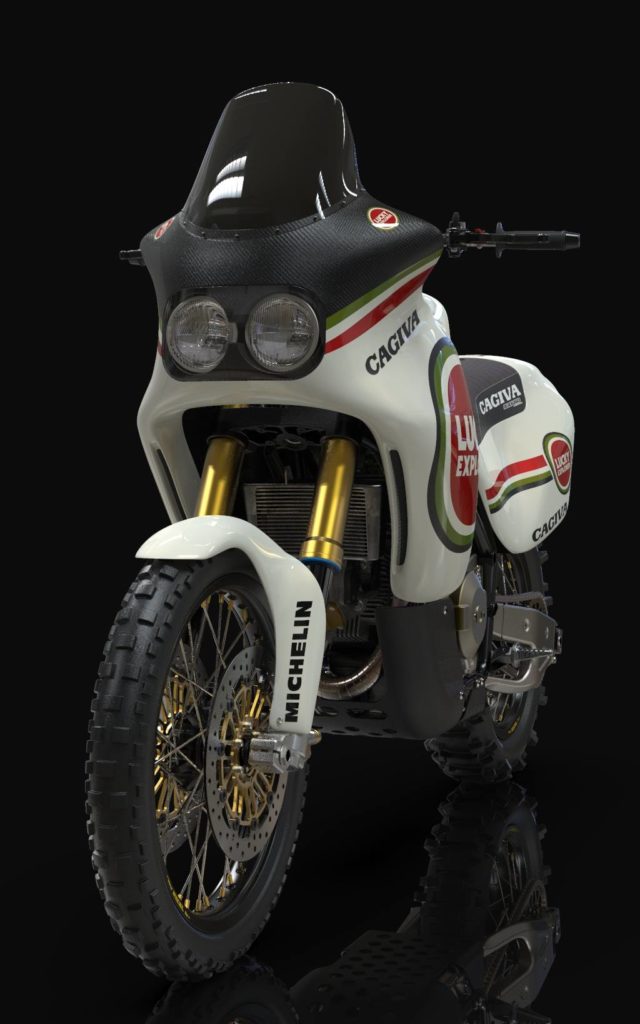 Nex year it will be the 20th anniversary of an epic venture… David challenges and wins on Japanese Goliath.
With their crazy vision Claudio Castiglioni, his team made of amazing people, 2 great pilots as Ciro de Petri and Edi Orioli wrote an unforgettable page of motorcycle history.
This is our tribute to those men and their motorcycle, the epic cagiva Elefant.
The frame derives from a modern Ducati trellis and the engine is the classic air cooled. Geometry is the same of the original motorbike because this is not a cruiser like the GS but a proper desert ship.